Premium Bond jackpot winners in Essex and Northamptonshire as September's results are revealed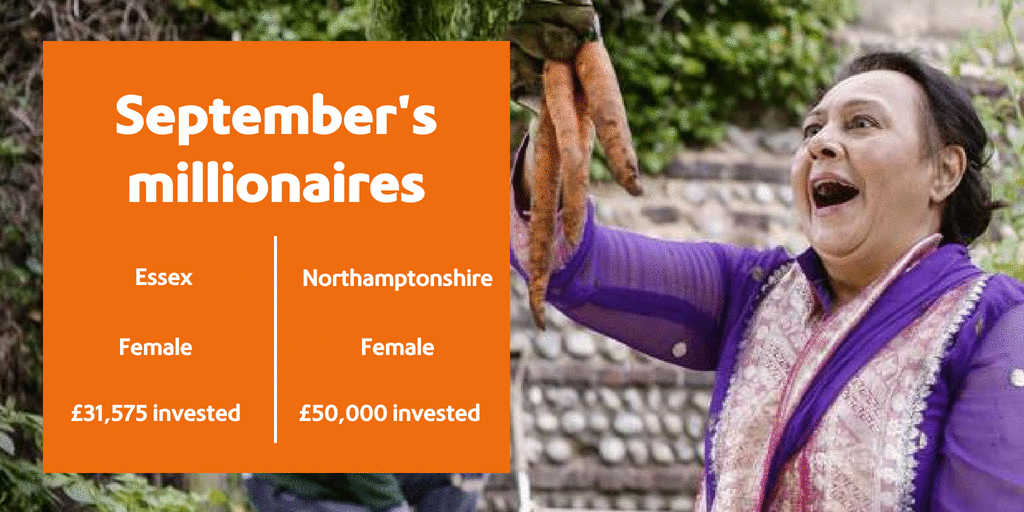 Two lucky Premium Bonds holders, from Essex and Northamptonshire respectively, have scooped September's top prizes toasting the end of summer with a £1 million tax-free prize.
The pair become the 393rd and 394th Premium Bond holders to scoop the jackpot since the £1 million prize was introduced.
The woman from Essex purchased her winning Bond in May 2003 and currently has £31,575 invested. The winning Bond number is 033BV820007.
The woman from Northamptonshire becomes just the second Premium Bonds millionaire in the region. She currently has £50,000 invested and bought the winning Bond in August 2015. The winning Bond number is 254PS792183.
Both women will receive a personal visit from Agent Million who will break the good news. Essex has been fertile ground for Premium Bond millionaires in the past with this month's winner being the 15th to have won the top prize, while the winner in Northamptonshire is only the second to be made a Premium Bonds millionaire by ERNIE – the last being almost a decade ago in November 2008.
Alun Williams, Assistant Director at NS&I, said:
"People purchase Premium Bonds for a number of different reasons, some to win regular tax-free prizes and some to be in with a chance of winning the jackpot £1 million prize. ERNIE, responsible for drawing the numbers that make up the three million plus prizes that are paid out every month, has made a Premium Bonds millionaire in every county now, but some have been touched by Premium Bonds joy more than others. This month sees just the second Northamptonshire Premium Bonds millionaire after nearly ten years, while Agent Million is getting used to the trips to Essex, with the third visit to the county since October 2017 and the second already this year."
Unclaimed Premium Bond prizes
There are over 1.5 million unclaimed Premium Bond prizes, worth almost £60 million.
In Essex, unclaimed prizes date back to February 1964. The highest unclaimed prize in the county is £25,000, won in May 2014. This person has £2,325 invested and the winning Bond number is 135MM985708. There are also two £10,000 prizes and three £5,000 prizes in Essex waiting to be claimed. In total, there are around 40,500 unclaimed prizes in the county, worth nearly £1.6 million.
In Northamptonshire, unclaimed prizes date back to October 1965. The highest unclaimed prize is £5,000, waiting to be claimed by a Premium Bond holder with just £5 invested. The draw was in November 2014 and the winning Bond number is 6EL220580. There is also one other £5,000 unclaimed prize in the county dating back to December 2007. Overall, there are over 11,000 unclaimed Premium Bonds prizes in Northamptonshire, worth over £400,000.
Premium Bonds prizes may go unclaimed as a result of NS&I not being informed of changes to personal circumstances, such as a change in contact details or if Premium Bonds were bought for the customer as a child and they have subsequently lost track of them. Therefore, it is important to keep NS&I up to date if anything changes.
Getting paid directly into your bank account
#ERNIEmoments come in a variety of shapes and sizes, yet customers don't need to receive a cheque through the post to enjoy that winning feeling. Nearly two million Premium Bond holders have opted to have their prizes paid directly into their bank account, including this month's jackpot winner in Northamptonshire. Having future prizes paid directly into your bank account makes it easier for customers and means prize money is received sooner.
Customers can opt to have their prizes paid directly into their bank account, or to have their prizes automatically reinvested into their Premium Bonds account, as long as the total holding is below the maximum threshold of £50,000. More information about these options is available on the NS&I website.
Alun Williams continued:
"Both of September's jackpot winners have either decided to have their prizes automatically reinvested into the next month's draw or have them paid directly into their bank account. Both these options will make managing their Premium Bonds easier and will help avoid any future prizes going unclaimed."
Register and manage your Premium Bonds account online
September 2018 prize draw breakdown
Value of prize
Number of prizes
£1,000,000
2
£100,000
5
£50,000
10
£25,000
19
£10,000
49
£5,000
98
£1,000
1,781
£500
5,343
£100
24,451
£50
24,451
£25
3,060,977
Total prize fund value
£89,099,575
Total number of prizes
3,060,977
In the September 2018 draw, a total of 3,117,186 prizes worth £89,099,575 will be paid out. There were 76,371,079,150 eligible Bonds for the draw.
Since the first draw in June 1957, ERNIE has drawn 413 million winning prizes, to the value of around £18.6 billion.
Customers can find out if they have been successful in this month's draw by downloading the prize checker app for free from the App Store or Google Play, or visit the prize checker at nsandi.com. The results will be published in full on Tuesday 4 September.
View the Premium Bonds prize checker online


---
Notes to Editors
NS&I has spokespeople available for interview and a wealth of facts and figures (including regional) about Premium Bonds. If you require any further details, please contact the NS&I media team on the contact details below or tweet your question to @nsandi
All Premium Bonds prizes are free of UK Income Tax and Capital Gains Tax.
NS&I is one of the largest savings organisations in the UK, offering a range of savings and investments to 25 million customers. All products offer 100% capital security, because NS&I is backed by HM Treasury.
The annual Premium Bonds prize fund rate is currently 1.40% and the odds of each individual Bond number winning any prize are 24,500 to 1.
Pictures of Premium Bonds, including the Premium Bonds app and ERNIE are available in high-resolution jpeg format from the NS&I media team.
Customers can buy Premium Bonds online at nsandi.com and over the phone by calling 08085 007 007. This is a freephone number and calls to it from the UK are free from both landlines and mobiles. Calls may be recorded. Customers can also buy by post. Existing customers can also buy by bank transfer and standing order and each investment must be at least £50 for bank transfers and standing orders.
When reporting total unclaimed assets held by NS&I (including accounts, Certificates, Bonds, unclaimed Premium Bonds prizes and other products), NS&I defines unclaimed holdings as those with no customer contact for a period of 15 years or more.
Further information on NS&I, including press releases and product information, is available on the website at nsandi.com. Follow us on Twitter: @nsandi or join the conversation on Facebook: Premium Bonds made by ERNIE