No tricks, all treats: Premium Bonds winners in Cheshire and Somerset this November
One jackpot winner has had Premium Bonds since they were a child, as NS&I will make gifting to children more accessible
NS&I also reduces minimum investment to £25 by end of March 2019
Premium Bonds pay out more than £90 million worth of prizes in a month for the first time in ten years
Trick or treating may be over, but two lucky Premium Bonds holders have had one more visitor knocking at their door. While Agent Million didn't wear a costume, they did bring the sweet news of two £1 million Premium Bonds prizes to a man in Cheshire and a woman in Somerset.
The man from Cheshire, is the seventh winner of the Premium Bonds top prize in the county. He has a total of £48,350 invested in Premium Bonds, and the winning Bond number is 314TY075608.
The woman from Somerset has held Premium Bonds since their introduction in November 1956. After topping up her Premium Bonds account to the £50,000 maximum in September this year, the lump sum investment has scooped the jackpot in its first eligible draw. The winning Bond number is 340NR182743.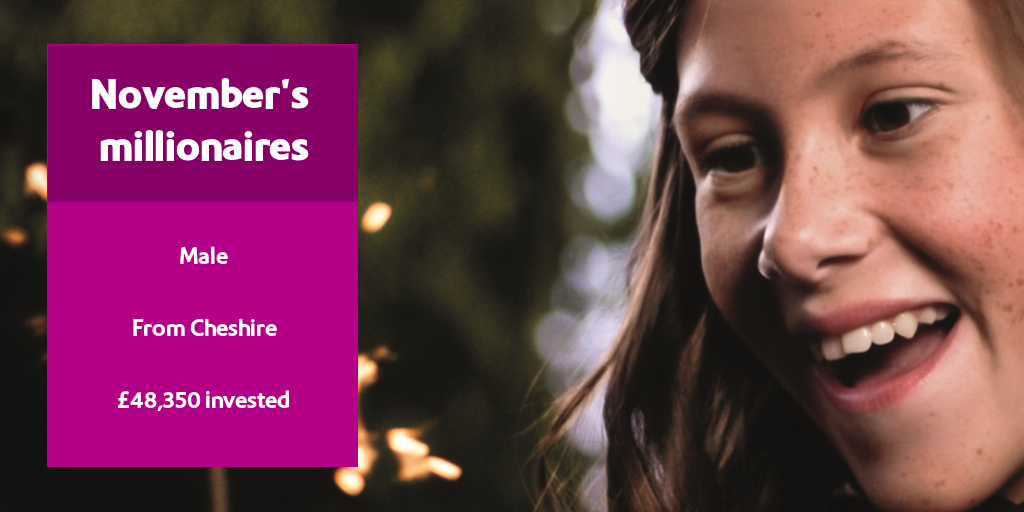 On the 62nd anniversary of Premium Bonds being on sale, the pair become the 397th and 398th recipients of the top prize.
Gifting Premium Bonds
Parents and grandparents have been able to gift Premium Bonds to children under 16 and this is what happened to this month's millionaire winner from Somerset, having been bought two £1 Bonds - in November and December 1956 - as a gift when they were a child, the first two months that Premium Bonds were on sale.
Find out more about buying Premium Bonds as a gift.
As announced in the Autumn Budget, NS&I will soon allow people other than parents or grandparents to purchase Premium Bonds for children. Currently only parents and grandparents can invest up to £50,000 for a child under 16, online, by phone or by post. Details of this update will be announced in due course.
Earlier this year, NS&I also allowed grandparents to invest for their grandchildren online at nsandi.com/gift . Grandparents can choose to be sent a gift card that they can then give to the grandchildren following their purchase.
Jill Waters, NS&I's Retail Director, said:
"Gifting Premium Bonds is not only a nice gesture today, but it helps develop a savings habit for tomorrow. We will soon be making it even easier to save for children, by offering the opportunity for aunts, uncles, godparents and family friends to gift Premium Bonds to under 16s.

"The good news doesn't stop there. By March 2019, the minimum investment for Premium Bonds purchases will be reduced from £100 to £25, making it even easier to enter the prize draw, and we will soon be launching a new app to help make saving easier."
Managing Premium Bonds online
NS&I will also be introducing a new app, to help make saving easier. The details of this app will be announced in the New Year. Premium Bonds customers can currently check if they've won a prize on the NS&I Premium Bonds prize checker app, available free from the Apple App store and Google Play.


Customers can also register to manage their Premium Bonds online or by phone and opt to have their prizes paid directly into their bank account, or to have their prizes automatically reinvested into their Premium Bonds account - as long as the total holding is below the maximum investment limit of £50,000. More information about these options is available on the NS&I website.
Unclaimed Premium Bonds prizes
Premium Bonds prizes may go unclaimed as a result of NS&I not being informed of changes to personal circumstances, such as changes to contact details or addresses. Therefore, it is important to keep NS&I up to date if anything changes.
In total, there are over 1.5 million unclaimed Premium Bonds prizes worth £60 million.
In Cheshire, there are over 20,000 unclaimed Premium Bonds prizes worth nearly £761,000, with a £25 prize dating back to February 1963. The highest unclaimed prize is worth £5,000, and was won in May 2014. It belongs to a woman who currently has £4,350 invested. 14 prizes of £1,000 also remain unclaimed.
In Somerset, there are over 10,000 unclaimed Premium Bonds prizes worth over £420,000, the oldest being won in March 1971. The highest prize unclaimed is £25,000 won by a man with £305 invested. There are also a further eight prizes of £1,000 waiting to be reunited with their rightful owner.
November 2018 prize draw breakdown
Value of prize
Number of prizes
£1,000,000
2
£100,000
5
£50,000
10
£25,000
20
£10,000
51
£5,000
101
£1,000
1,804
£500
5,412
£100
24,772
£50
24,772
£25
3,101,312
Total value of prizes:
£90,273,600
Total number of prizes: 
3,158,261
In the November 2018 draw, a total of 3,158,261 prizes worth £90,273,600 will be paid out. There were 77,377,378,454 eligible Bonds for the draw.
Since the first draw in June 1957, ERNIE has drawn 419 million winning prizes, to the value of around £18.8 billion.
---
Notes to editors
NS&I has spokespeople available for interview for this story or to discuss the recent Premium Bonds changes If you require any further details, please contact the NS&I media team on the contact details below.
All Premium Bonds prizes are free of UK Income Tax and Capital Gains Tax.
NS&I is one of the largest savings organisations in the UK, offering a range of savings and investments to 25 million customers. All products offer 100% capital security, because NS&I is backed by HM Treasury.
The annual Premium Bonds prize fund rate is currently 1.40% and the odds of each individual Bond number winning any prize are 24,500 to 1.
Pictures of Premium Bonds, including the Premium Bonds app and ERNIE are available in high-resolution jpeg format from the NS&I media team.
Customers can buy Premium Bonds online at nsandi.com and over the phone by calling 08085 007 007. This is a freephone number and calls to it from the UK are free from both landlines and mobiles. Calls may be recorded. Customers can also buy by post. Existing customers can also buy by bank transfer and standing order and each investment must be at least £50 for bank transfers and standing orders.
When reporting total unclaimed assets held by NS&I (including accounts, Certificates, Bonds, unclaimed Premium Bonds prizes and other products), NS&I defines unclaimed holdings as those with no customer contact for a period of 15 years or more.
Further information on NS&I, including press releases and product information, is available on the website at nsandi.com . Follow us on Twitter: @nsandi or join the conversation on Facebook: Premium Bonds made by ERNIE