Double delight for London as two Premium Bond millionaires are made
Two Premium Bond holders in Outer London have struck gold this August and will be receiving the £1 million Premium Bonds jackpot.
---
While school is out and much of the UK is enjoying a heatwave, ERNIE, our Electronic Random Number Indicator Equipment, has been hard at work generating random numbers for August's Premium Bonds prize draw. Two Premium Bond holders in Outer London have struck gold this August and will be receiving the £1 million Premium Bonds jackpot.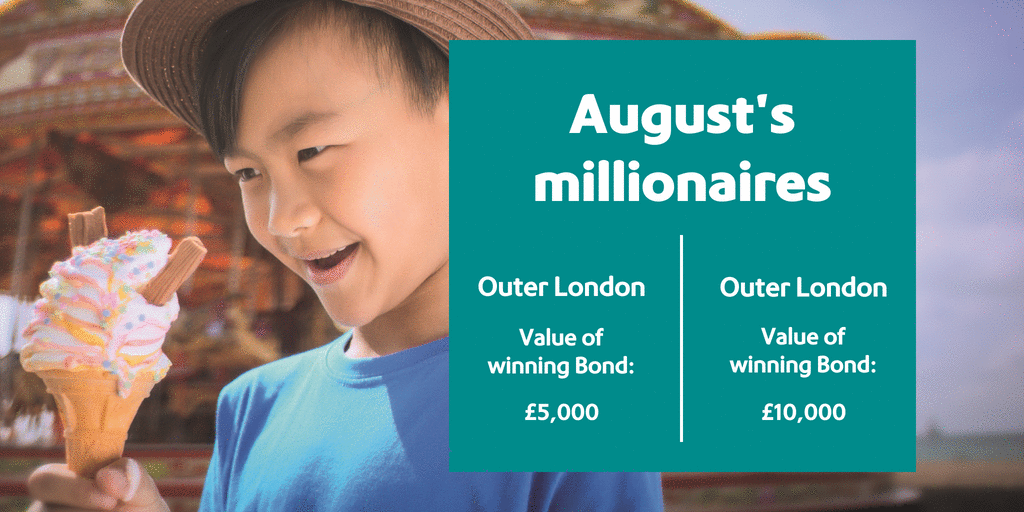 A woman from Outer London, the 391st Premium Bond millionaire, purchased her winning Bond in June 2012, and currently has £29,700 invested (winning Bond number 193WA458843). While she is registered to have her prizes reinvested, her win this month will be given in person by Agent Million.
A man, also from Outer London, is the second recipient of the top prize this month and the 392nd in total. He purchased his winning Bond in June 2015, and currently has the maximum of £50,000 invested (winning Bond number 247YN655471). He has registered to have his prizes paid directly into his bank account, however will be in for a surprise this month when Agent Million knocks at his door instead.
Jill Waters, Retail Director at NS&I, said:
"The randomness of the Premium Bond draw has struck again as the two jackpot winners are from the same region. This is just the fifth time that this has happened, with the last occurrence happening in July 2016. Each £1 Bond has an equal chance of winning and each investment, no matter the size, has an opportunity to win a prize. However, the more Bonds you own, the more likely you are to win, and one of this month's millionaires shows that you don't have to the £50,000 maximum invested to win big."
"Premium Bonds are designed to offer a fun way of saving, whether that be for someone who saves regularly or is using Premium Bonds for saving for a particular goal, such as a house deposit. Customers can choose to reinvest their prizes, or invest by standing order with a minimum £50 each month."
Unclaimed Premium Bond prizes
In total, there are around 1.5 million unclaimed prizes worth over £59 million.
Outer London has the highest value of unclaimed prizes of any region, with 172,000 prizes worth £6.7 million. This includes one prize of £100,000 waiting to be claimed. This prize was won in February 2007 and the winner has just £25 invested. The winning Bond number is 8LK522839. There are also four £10,000 unclaimed prizes in the region.
Jill Waters continued:
"Both of August's jackpot winners have registered to manage their Premium Bonds online or by phone, and have either decided to have their prizes automatically reinvested into the next month's draw or have them paid directly into their bank account. Both these options will help avoid any future prizes going unclaimed."
Premium Bonds prizes may go unclaimed as a result of NS&I not being informed of changes to personal circumstances, such as a change in contact details or if Premium Bonds were bought for the customer as a child and they have subsequently lost track of them. It is important therefore, to keep NS&I up to date if anything changes.
Customers can opt to have their prizes paid directly into their bank account, or to have their prizes automatically reinvested into their Premium Bonds account, as long as the total holding is below the maximum threshold of £50,000. More information about these options are available on the NS&I website.
Register and manage your Premium Bonds account online
August 2018 prize draw breakdown
Value of prizes
Number of prizes
£1,000,000
2
£100,000
5
£50,000
9
£25,000
20
£10,000
49
£5,000
98
£1,000
1,770
£500
5,310
£100
24,289
£50
24,289
£25
3,042,501
Total prize fund value
£88,560,875
Total number of prizes
3,098,342
In the August 2018 draw, a total of 3,098,342 prizes worth £88,560,875 will be paid out. There were 75,909,317,331 eligible Bonds for the draw.
Since the first draw in June 1957, ERNIE has drawn 410 million winning prizes, to the value of around £18.6 billion.
Customers can find out if they have been successful in this month's draw by downloading the prize checker app for free from the App Store or Google Play, or visit the prize checker at nsandi.com. The results will be published in full on Thursday 2 August.


---
Notes to Editors
1. NS&I has a wealth of facts and figures (including regional) about Premium Bonds. If you require any further details, please contact the NS&I media team or tweet your question to @nsandi
2. You can read more about Premium Bonds prize winners at nsandi.com/winning-stories
3. All Premium Bonds prizes are free of UK Income Tax and Capital Gains Tax.
4. NS&I is one of the largest savings organisations in the UK, offering a range of savings and investments to 25 million customers. All products offer 100% capital security, because NS&I is backed by HM Treasury.
5. The annual Premium Bonds prize fund rate is currently 1.40% and the odds of each individual Bond number winning any prize are 24,500 to 1.
6. Pictures of Premium Bonds, including the Premium Bonds app and ERNIE are available in high-resolution jpeg format from the NS&I media team.
7. Customers can buy Premium Bonds online at nsandi.com and over the phone by calling 08085 007 007. This is a freephone number and calls to it from the UK are free from both landlines and mobiles. Calls may be recorded. Customers can also buy by post. Existing customers can also buy by bank transfer and standing order and each investment must be at least £50 for bank transfers and standing orders.
8. When reporting total unclaimed assets held by NS&I (including accounts, Certificates, Bonds, unclaimed Premium Bonds prizes and other products), NS&I defines unclaimed holdings as those with no customer contact for a period of 15 years or more.