29 million Britons worry about personal finances, but most bury their heads in the sand
New research from NS&I reveals that personal finance worries are having a negative impact on the wellbeing of 17 million Britons, with a quarter (26%) revealing that the state of their personal finances has had a negative effect on their mental health.
---

NS&I's latest research reveals that almost a third of Britons (33%) have experienced a negative effect on their overall health due to their personal finances.
Just over half of Britons (51%) who worry about money say that they worry about it all or most of the time.
But almost three quarters (73%) who worry about money have never sought advice or guidance.
In total 85% of Britons admit to worrying at least some of the time, and for two thirds (67%) of those who worry, money is the subject that they worry about more than any other. This means that around 29 million of us are losing sleep over our personal finances.
Over two thirds of both men (68%) and women (67%) who worry do so about money, but, demographically, the worry is most prevalent in the younger age group. Three quarters (78%) of those aged between 16-34  are the most concerned about money as opposed to their family, health or work, with 57% of that age group worrying about money all or most of the time.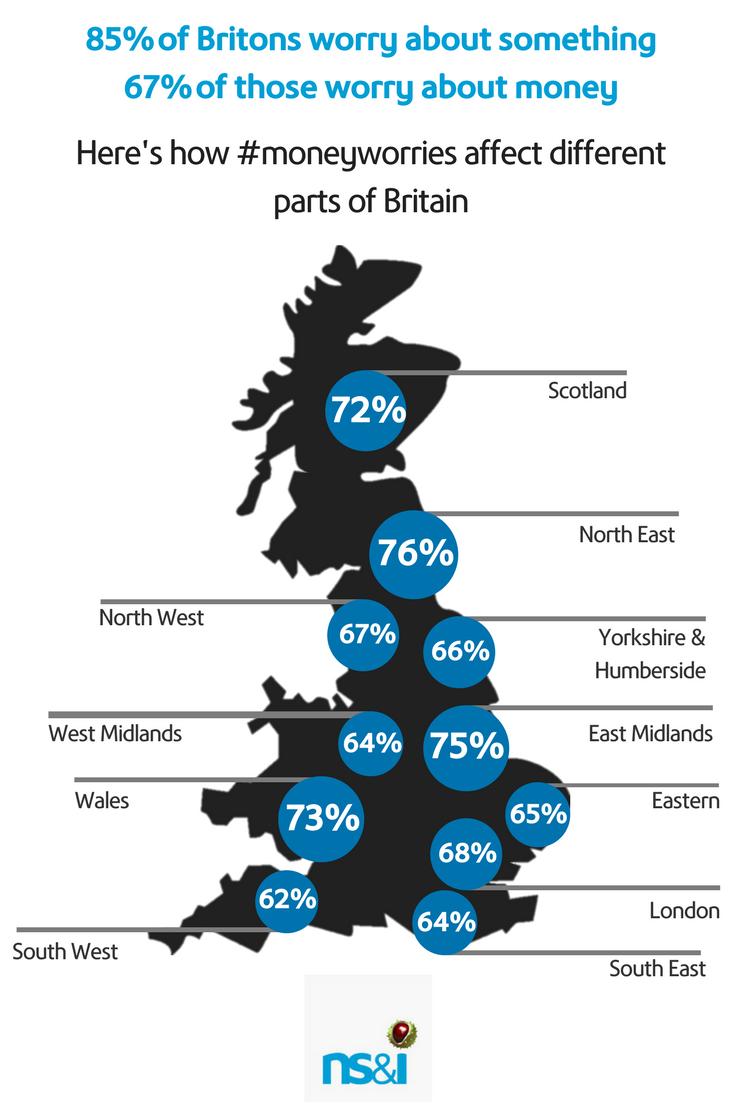 Despite this, as many as 73% of those who have ever worried about their personal finances have never sought advice or guidance, formally or informally, for money-related issues. Those in Wales (21%) and Scotland (17%) are the least likely to seek advice with regards to money worries.
Jill Waters, Retail Director at NS&I, said:
"It is concerning that almost two thirds worry over their finances, yet the current picture is slightly better than it was in 2012, when we found that three quarters of people worried about their finances at least once a year. However, this new research has also found that younger people are more likely to see a negative impact on their wellbeing as a result of worrying about their finances."
Who would you talk to about money worries?
Just under a third of Britons (29%) would go to their parents as a source of advice, guidance or information relating to financial matters, while just over a quarter (27%) would choose to seek advice from either their partner or spouse, or a professional financial advisor (including independent) or their bank manager.
Interestingly, just under a third of women (31%) would be more keen to speak to their partner or spouse than a quarter of men (24%), while men (31%) would prefer to gain guidance from a professional financial adviser, and independent financial advisor or a bank manager – for women this is 22%.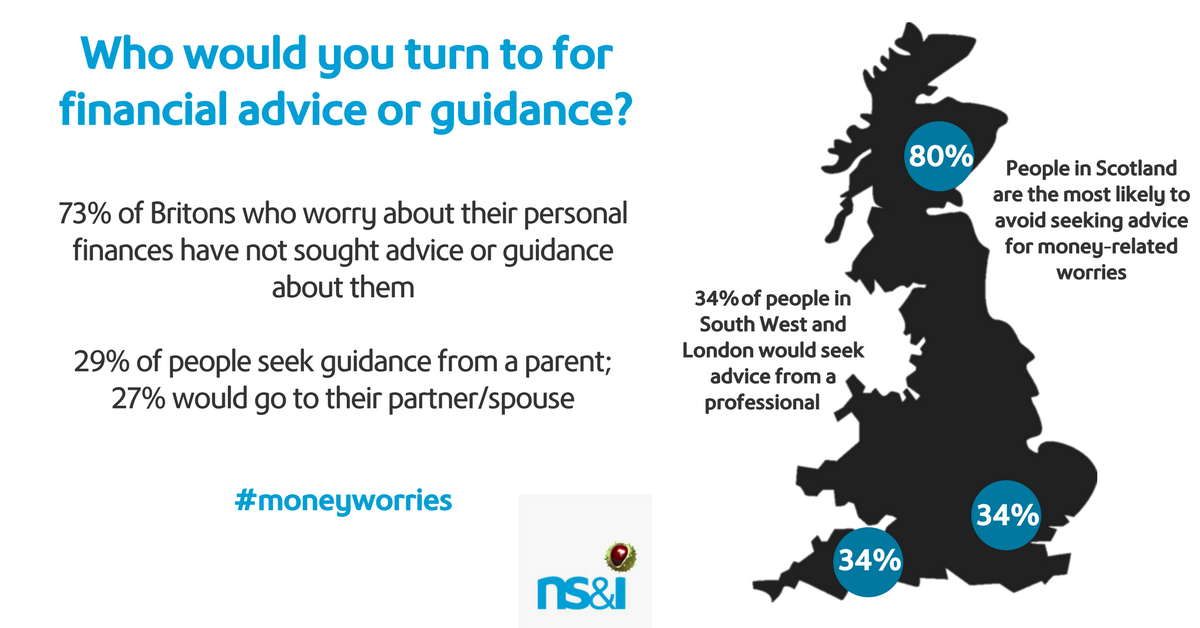 29% of Britons see aspects of their personal finances as a taboo subject, with people choosing to keep both savings and debt (8%) in the dark. Men appear to see their finances (31%) as a slightly more secretive subject than women (27%). Regionally Londoners (42%) are by far the most likely to keep their finances private, while those in the East of England are much more likely to discuss matters of personal finance with just a fifth (21%) keeping them a secret. Alarmingly, a quarter (24%) of those who do not have any savings will not discuss their personal finances with anyone.
Of those who don't discuss their personal finances with anyone, just over a third (36%)  said they didn't want others to know about their finances, a fifth (21%) didn't feel comfortable discussing their personal finances with others, while 11% felt embarrassed about talking about their financial situation. 4% admitted not being confident in talking about money.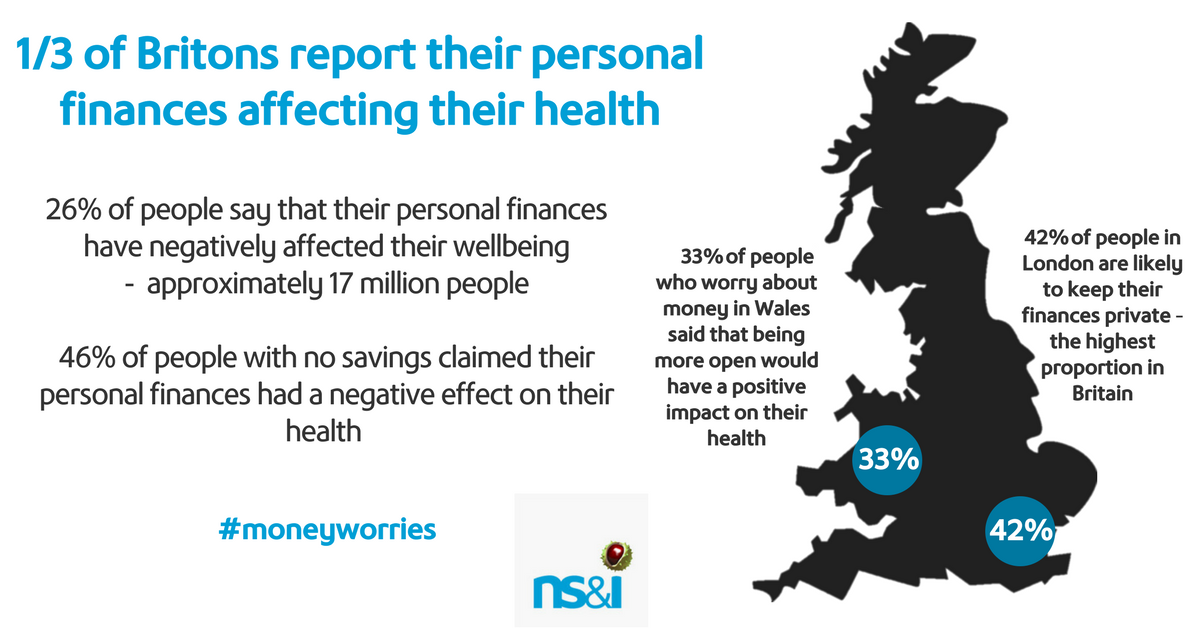 Brian Dow, Managing Director at Mental Health UK, commented:
"As this research shows, money problems are widespread and they're causing an awful lot of people stress and worry on a daily basis.  That's not healthy. We set up our Mental Health and Money Advice Service in November last year because we know that mental health and money problems often go hand in hand. Both are thought of as 'taboo' subjects by many, shrouded in shame and secrecy, which is why debt is sadly so often cited as a factor in suicides.
"We would urge anyone who is worried about their money problems affecting their wellbeing to visit mentalhealthandmoneyadvice.org for practical advice and information."
Find out more about Mental Health UK
Would our openness about personal finances improve our health?
Britons who worry about money, were asked if they considered being more open about their finances and whether this would have a positive or negative impact on mental wellbeing, a quarter (26%) suggested this would likely be a positive step, while half (52%) felt this would have no impact. Only 7% felt that being open about their finances would lead to a negative effect on mental health.
The saying goes, a problem shared, a problem halved, and for those who felt that opening up about their finances would have a positive impact on their mental health, two thirds (67%) felt that openly and actively discussing matters of personal finances with others may reduce their worry. 60%  suggested that being more open may result in receiving different advice or guidance that may help with personal finance situations, while a quarter (25%) felt that the outcome may be others providing financial help.
Jill Waters, Retail Director at NS&I, continued:
"It is startling to see that so few people are taking guidance when it comes to money worries, hoping that everything will turn out alright. It's healthy to talk about your finances whether that be informally with friends and family, sharing experiences or speaking to an independent third party, such as a financial adviser, a local Citizens Advice Bureau or a similar organisation.
"Talking openly and in confidence about your financial situation and making a plan for now and in the future can help reduce that worry and help you get on top of the situation."
Notes to Editors
The Mental Health and Finances section of the NS&I Savings Survey was conducted by Populus among 2,075 British adults aged 16+ between 15 and 17 December 2017. The sample has been weighted to represent the adult population of Britain.