2017-18 Annual Report and Accounts: From Think Ahead to Inspire & Invest
Think Ahead has been a successful strategy. Since the start of 2014–15, we have delivered more than £50 billion in Net Financing for the Government; and cumulative savings of more than £780 million for taxpayers, as shown by the Value Indicator.
---
By Ian Ackerley, CEO, NS&I
We are now a 100% direct business and our online customer experience has been transformed. Since 2014–15, NS&I has grown its business-to business services to other parts of government and also supported specific areas of government policy – delivering products such as 65+ Bonds and Investment Guaranteed Growth Bonds to support savers who have been affected by low interest rates.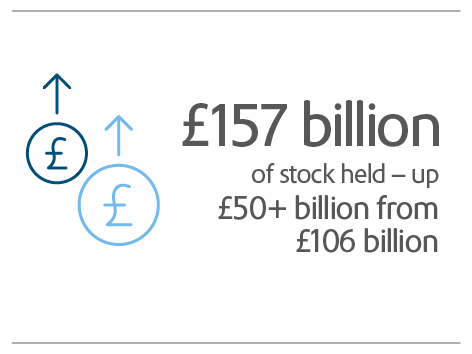 Our new strategy, Inspire & Invest, maintains our strategic focus of raising cost-effective financing for the Government by offering savings and investment products to retail customers, but also prepares NS&I for the potential impact of new regulatory changes. 
Learn more about our new Inspire & Invest Strategy 
In addition, it formalises and builds on two emergent areas of Think Ahead – providing payment processing services to other parts of government, which in turn helps fund NS&I's core retail savings business; and the delivery of retail financial products and services to support specific government policy objectives. These activities help increase awareness of NS&I and attract new customers – and could reduce the cost of raising financing for government and leverage our considerable expertise.
We have embraced open banking, which will allow customers to manage accounts and investments from multiple providers through a single portal. For relevant products, customers will be able to choose to view their NS&I holdings via other providers' websites
More about Open Banking at NS&I
As part of our new strategy, we have launched a Welcoming Diversity at Work plan, which consists of 10 core initiatives that are designed to make a difference to our culture, our people and our customers. They are built on employee input and seek to ensure that we maximise the contribution of the diverse talent within NS&I. 
One catalyst for the development of the plan was the Women in Finance Charter, which we signed up to in 2017.
We reviewed our performance against its four core actions and confirmed that we already had close to 50:50 representation of men and women at senior management level.
The plan includes commitments to publish more detailed and accurate diversity statistics, as a basis for improving our diversity in the coming year. 
Read about the Women in Finance Charter
In recognition of the importance that NS&I attaches to employee engagement and diversity, we have created two new SDMs, applicable from 2018–19, to capture performance: an employee engagement SDM and a diversity index SDM.